The Marine Energy Transition Forum; 11th-12th October 2022, Antwerp, Belgium
Posted 2022-07-22 10:40:03 by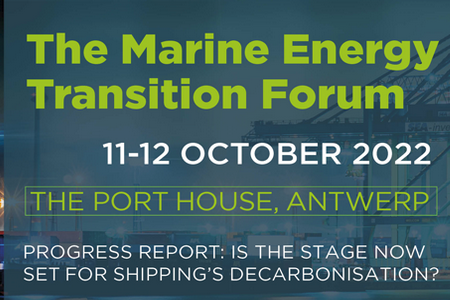 The Marine Energy Transition Forum returns to The Port of Antwerp-Bruges 11th-12th October 2022 to pick up the key threads of the complicated and evolving debate on shipping's energy transition.
In 2023, there may well be some key developments in the European arena which are intended to accelerate shipping's decarbonisation. METF 2022 is therefore well timed to assess what European regulations will mean for shipping's journey to zero as well as reviewing the pace of decision-making in terms of global regulation.
The Forum will ask whether cross-sector partnerships and collaboration are already accelerating commercial, operational and technological progress in terms of the switch to new energy sources for the shipping and bunkering sectors.
Some of the most well-known names in shipping, industry and technology have already set out their decarbonisation strategies, but METF will also look at how small and medium-sized businesses are responding to the demands of environmental regulation.
The Forum, now in its third edition, has gained a strong reputation for focusing on key and innovative projects in the ARA region and Northern Europe that are really driving the energy transition in shipping and in ports. In 2022, METF will again showcase some of the initiatives – which may be at the pilot stage or at commercial scale – that are demonstrating what is already possible in terms of meeting decarbonisation targets.
For more information click here.