View the News Archive
13 innovative projects get UFO support with Euro1.5 million funding
Posted 2021-06-18 15:09:08 by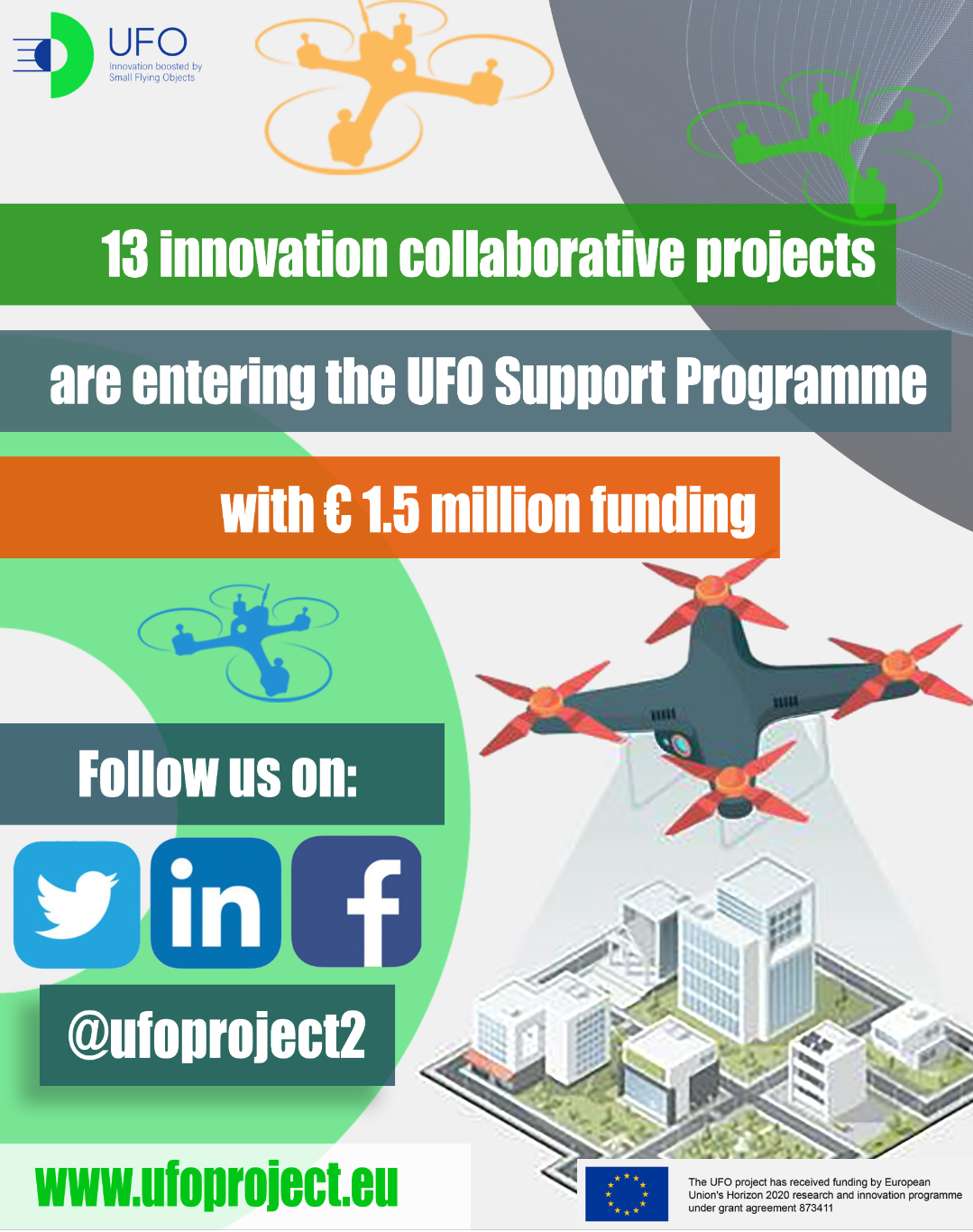 The first UFO Open Call for innovative collaboration projects in the field of small flying objects has released details of the 13 projects that have received funding.
MSE International is one of the UK partners in the UFO project which aims to support European SMEs in the development of innovative products and services integrating new technology solutions in the fields of digital technologies, microelectronics, nanotechnologies, sensors and exploitation solutions. The funding is for technologies in the Small Flying Objects sector; drones, high altitude platforms and small satellites, working in 6 emerging industries; Blue Growth, Digital Creative and Gaming, Mobility Technologies, Climate, Environment, Finance and Insurance.
The open call for applications closed in February 2021 and 52 project proposals applied for 3 different types of funding; Feasibility, Market & Business Development and Demonstration activities. Applications came from all 5 of the partner countries; Bulgaria, France, Greece, Romania and the United Kingdom.
The winners of this first open call for innovation collaboration projects will receive up to €60,000 for feasibility projects and up to €150,000 for demonstration projects, as well as technical support from industry experts and business mentoring, networking, access to funding to support the project sustainability and market realisation.
The complete list of winning applicants and their project topics is as follows:
Feasibility

 

Project name

Beneficiary SMEs

Short project description

Country

1

BIOG

Biocap limited

Biodiversity in Grasslands - automated measurement

 

United-Kingdom

IMGeospatial

United Kingdom

2

FLORA

Vortex.io

Flood Risk Assessment From High-Altitude Balloon

 

France

Stratorise ltd

United Kingdom

3

AIROUS

Robosurvey ltd.

Artificial Intelligence Robust Offshore Unmanned System

 

Greece

Telesto iot solutions ltd.

United Kingdom

DEMONSTRATION

4

FAIR

Gisaia

An index insurance product combining ships' over-fuel-consumption risk and marine geo spatial data

France

E-odyn s.a.s.

France

Skyline partners ltd

United Kingdom

Spire

 

United Kingdom

5

TMOS

Voltitude ltd

Targeted Meteorological Observations from the Stratosphere

 

United Kingdom

Formtech composites ltd

United Kingdom

6

RESPONSE

Everimpact s.a.s.

Measuring greenhouse gas emissions in Dijon metropole to build a platform for monetisation of GHG emission reduction

 

France

U-Space

France

Duomo ltd.

United Kingdom

7

5DARCH-AID

Geospatial enabling technologies

5D ARCHitectural Air Documentation (UAV 3D modeling of historical monuments)

Greece

JGC Geoinformation systems s.a.

Greece

Heritage management e-society (hermes)

Greece

Asocia?ia Monumentum

 

Romania

8

ALMA

Cambridge sensoriis ltd

Auto Landing, Marine unmanned Air vehicles

United Kingdom

Callen-Lenz

United Kingdom

Beia Consult

 

Romania

9

SEADROMS

Hellenic Technology of Robotics

Sea-vessel carried drone for persistent maritime surveillance

Greece

Hertfordshire Engineering ltd

United Kingdom

Keynsham Enterprises ltd.

 

United Kingdom

10

LEMIP

Recycle2Trade ltd.

On-cloud Intelligence Platform for Landfill Emission Monitoring

United Kingdom

Prodroneworx limited

United Kingdom

The Sykes Partnership llp

 

United Kingdom

11

DIORAMA

Sammy pc

Drone-based digital assIstant for pORts And Marinas, empowered with Artificial intelligence and edge

Greece

Spark works itc ltd.

United Kingdom

12

QlevErDemo

Data science experts

Demonstrator of a cubesat with embedded AI

France

SC Terrasigna srl

 

Romania

U-Space

 

France

13

VINESIGNAL