View the News Archive
The Future of Biobased Polymer and Natural Fibre Composites for the Marine Environment; 27th April 2022, 11.00-17.00 CET, Hybrid event, online and in-person in Lille, France
Posted 2022-03-18 15:02:39 by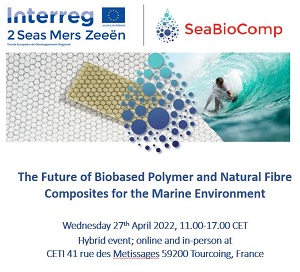 The SeaBioComp Interreg Project invites businesses, stakeholders, research organisations and interested parties to attend this hybrid conference on, 'The Future of Biobased Polymer and Natural Fibre Composites for the Marine Environment' which will take place online and in person at the CETI facilities near Lille in France, Wednesday 27th April 2022, 11.00-17.00 CET.
In-person attendees will be invited to tour the facilities of CETI which is the European Centre for Innovative Textiles, in the morning before the conference begins, followed by a networking lunch. Hybrid participants can join the afternoon conference session online.

The conference will present the results of the SeaBioComp project which is developing new bio-based thermoplastic composite materials for the marine environment as well as hosting key organisations in the bio-based composite value chain.

Speakers will include several SeaBioComp partners talking about the bio-based composites that have been produced during the project, including self-reinforced PLA filaments and fabrics, their mechanical properties and effects in seawater, In addition there will be presentations on compression moulding of biosourced composites and thermoplastic composite manufacture by monomer infusion (MIFT).

The event also welcomes speakers from the supply chain including KU Leuven and Greenboats.

Click here to register for this free event.

Find out more about the SeaBioComp project here.

Sign up to the interest group to receive updates, newsletters and details of relevant events here.

Please feel free to disseminate the details of this event to your colleagues and networks.