View the News Archive
Master in Maritime Logistics; second phase of applications opening 15th June 2022
Posted 2022-05-25 14:07:08 by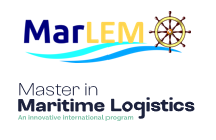 The second phase of applications for the Master in Maritime Logistics (MML) will be open from 15th June - 15th July 2022.
This master's programme is orientated towards the current and future challenges faced by the maritime logistics sector, including digitalization and multicultural interconnectedness, combined with valuable in-field experience.
The Masterís Degree in Maritime Logistics (MML) is an innovative international programme offered through the partnership between NOVA School of Science and Technology (NOVA SST) and the Portuguese Naval Academy.
Its curriculum is designed to provide a complete background in Industrial Engineering, Logistics, and Management, to allow students and professionals of the maritime-port industry to develop relevant research, innovation, technical, digital, and soft skills within the framework of sector related needs.
The Master in Maritime Logistics will enable specialists to:
Understand and operationalize the concepts of logistics and value chains supported by maritime transport;

Make decisions in face of complexity at several levels supported by a systemic vision and integration of the various aspects of maritime logistics and associated risks;

Take initiative, research, propose innovative solutions, organize teams, and work with them, in different contexts of maritime logistics.
Applicants must have at least 5 years of professional activity, preferably, but not exclusively, in Logistics Operations and Management, such as ship owners/charterers, ports, port terminals, transportation, logistics centers, agents, or brokers.
The masterís programme is composed of 60 ECTS (European Credit Transfer and Accumulating System), and has one year of duration divided in two terms. The first term (between October 2022 to March 2023) covers 9 courses and the second (starting March 2023) gives the students the option to enroll in a professional internship or the assignment of an applied project.
If you would like to upgrade your blue skills to cover the current labor market needs, visit the website https://grupoqualiseg.eu/mml/ .
Contact e-mail: mlm.coordenador@fct.unl.pt
About MML, MarLEM & Atlantic Knowledge Triangle
This Masterís Degree Programme in Maritime Logistics is a fundamental outcome of the†MarLEM Project (Maritime Logistics Engineering and Management), funded by the European Commission (European Maritime and Fisheries Fund) within the framework of the Blue Economy concept, in which NOVA SST and the Portuguese Naval Academy are the main academic partners. The MarLEM project aims at filling the gaps between higher education offerings in the area of maritime logistics and the labor market needs, i.e., the necessary skills versus the available ones in the sector. MarLEM benefitted from the support of the†Atlantic Knowledge Triangle, a network of Industry, Academia and Authorities entities that cooperated to establish a better framework for skills development, continuous improvement, and alignment with identified needs.